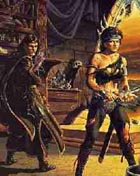 The Rogues Guild
This guild is home to the free spirited adventurers who are independent mercenaries, monks, and martial artists and do not see the need for an abundance of rules. Rogues are known to be self-sufficient and resourceful, relying on their own wits and talents to guide them to a prosperous future.
The only guild that neither has a Guild Master, nor requires a sponsor in order for you to join it, it has become the topic of both admiration and disdain from the various other guilds - depending on who is doing the talking.
While there are certainly advantages to being a rogue, the largest disadvantage is that of comraderie in the form of structure. Rogues lack guild communications, boards, treasuries, and do not have a large sanctuary as enjoyed by more defined and controlled guilds.